VISUAL. STORY. TELLING.
helping music artists, actors, songwriters, and entertainers tell their story
eCommerce
Easily sell videos, songs, products, and services online. Accept secure payments via PayPal or credit card.
For Artists
We create a vision of who you are and what you do. By expressing what makes you unique and memorable, we create an emotional connection that extends far beyond a website.
Responsive
We know that your website needs to be readable on all devices. Our web designs are fully responsive so they look great no matter what.
Marketing
Finding your brand online can be hard. We make it easy with a winning social media strategy and optimization of your media for search engines.

Social. Media.
Connect with your fans through Facebook, Instagram, Twitter, and Pinterest. Our web designs stream your latest events directly from your social media accounts to save you time.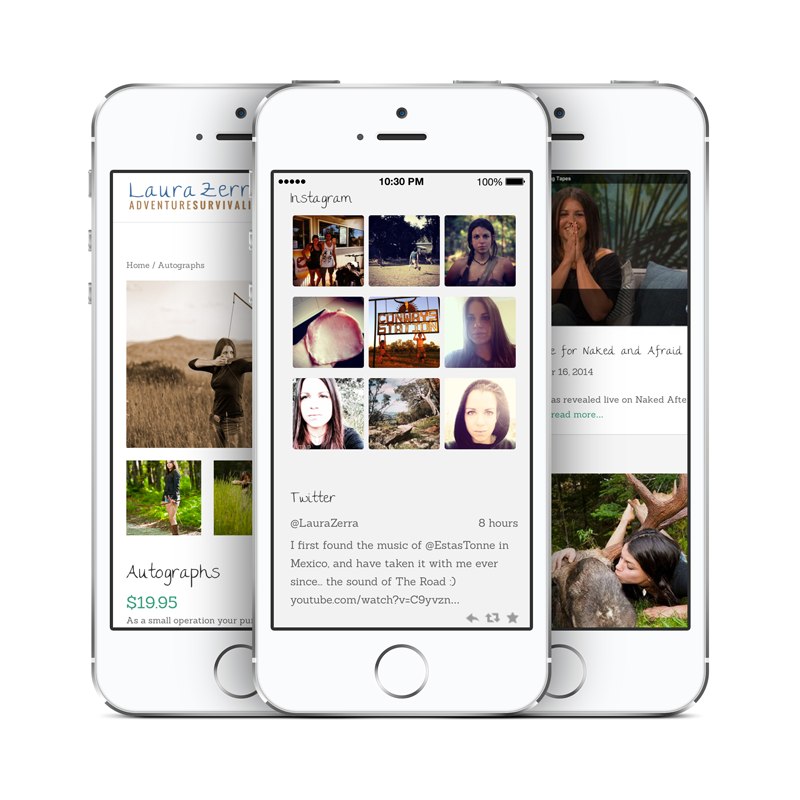 I first contacted Branded Entertainer in the spring of 2012, when I was looking forward to the initial airing of my episode of Discovery Channel's "Naked and Afraid". I had no idea what to expect from the publicity, and only knew that in today's day and age, I should have a website for my business. My first meeting was a crash course in marketing, media, branding, and web design, and left me inspired and motivated to create not only a website, but my own personal brand. I was able to vamp up my social media accounts and link them in with my new website, create an online store to allow people to make purchases from my site, and was excited to discover that my site appeared at the top of a search for my name – not as easy to make happen as you'd think!
Laura Zerra
Michael has been an incredible asset to my start-up involving musicians, actors, song-writers, singers and other creatives. He was exacting in answering all of my questions and providing solutions to my challenges. I never felt rushed or unheard, and he delivered in a timely fashion. Michael is truly supportive and a pleasure to work with.
Marc Emmelmann
Good Design is Good Business
web design has a major impact on the way your fans become aware and interact with your personal brand